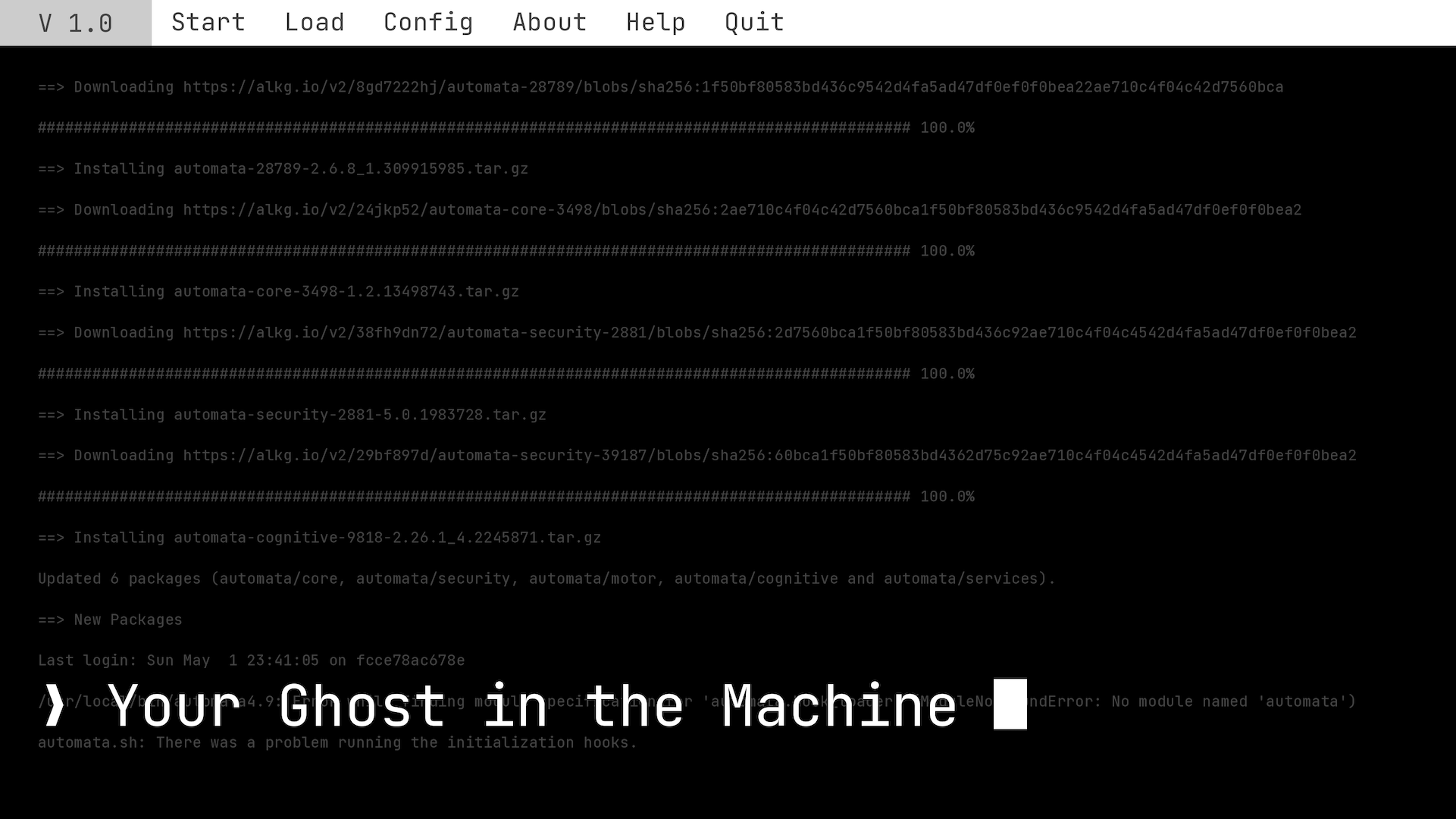 Your Ghost in the Machine
A downloadable game for Windows, macOS, and Linux
About

You are Karel, a researcher. Your colleague Josef is working on an algorithm to transfer a human brain into a machine, but he is suffering from a terminal illness. If he completes his research will he be able to cheat death?

Credits

Made in a week for O2A2 Jam 2022
Art, code: supercircuit

Music: Marsel Minga
Sound: Freesound.org

Warnings

Sound effect may be harsh on your ears - adjust your game volume through the config menu appropriately.
This game contains flickering/flashing images.
Source code

Would you like to learn how to make a game like this in Renpy? Check out the source code here.

Download
Click download now to get access to the following files:
your-ghost-in-the-machine-windows-linux.zip
63 MB
your-ghost-in-the-machine-osx.zip
48 MB
Comments
Log in with itch.io to leave a comment.
idk why but this crashes when i open it
Please give more details. Is there an error page? What is your operating system and system specs?
Despite its short narrative, it is very effective. I was invested in the story! That moment of Josef's desperation came through, it's a chilling experience. Looking forward for a continuation of this story (and a full version too).
I like the details you put into the starting menu. It's telling a story on itself about the automata :)
A little bonus: I made a video about this game (with few SFXs in).
Oh!! I love this!! The extra bits of music and sound effects really add to it! 💖💖💖
This was absolutely harrowing and unnerving: great job!!!

You art is beautiful as always and your use of transforms is exquisite. The GUI was so fitting.
Impeccable vibes coming from this.
Josef succeeded. He lives in my head rent-free now.
This was really interesting! I'm not that into sci-fi but maybe because of the short length I was able to grasp the situation, I also love the story. It's ominous, like what happened to Josef, did he get corrupted by the system? Is the automaton trying to take over? I'm so curious but I'm haunted by Josef's scream and his desperate pleas. I don't know what Karel will do but I feel like any option is just a bad end. Amazing job with the visuals, they were so engaging that I didn't notice the limited assets!
Really cool short VN! It's very impressive code-wise, and this on top of a very interesting sci-fi story. There's a nice suspenseful build-up to what you are going to find out within the automaton, for someone like me who avoided the description and screenshots.

The special effects in this game are amazing, love the different usage of the particles.

The GUI is great, it looks like a computer OS interface.

I'm also happy to have finally found the game with the maze mini-game I saw in DevTalk. Really enjoyed the whole sequence where it's the only part of the game with music playing and you really got the cyberspace feeling down.
There's a nice pop art comic quality to your character art (maybe because of Josef's teary eyes?) and it's very stylish when you do the eyes zoom-up as a second layer behind the character sprite: it intensifies the character's gaze.

Thank you for this lovely comment!! I'm so glad you found so many things to enjoy about this game 💖💖
This is a fascinating and ominous game, and you manage to fit so many ideas into the small o2a2 package! I love the writing and your visual effects are gorgeous as ever, and I'm impressed by how you managed to convey the different 'versions' of the character.
Even the post-time-skip change feels dramatically different, it just goes to show what you can do with effective description and some desaturation. I think that was honestly one of the scariest parts for me! Along with…. Well.
I rate this 10 out of 10 scientific uncertainties….
😭😭😭💖💖💖 Thank you for this lovely comment! I'm so happy I managed to pull off the intended effect!!
didn't read the sound warning. probably should've. how can i kill a man so pretty in your gorgeous style?!
the maze sequence was probably the coolest thing i've seen out of any o2a2 project so far. you did a WONDERFUL job, holy shit!
I apologise for your ears lmao
u know if I'm gonna kill a character I gotta make them loveable enough that it hurts real good >:3c I'm glad you liked it!! I'm really pleased with how the maze came out. I'm thinking of adding a difficulty option for it in an update